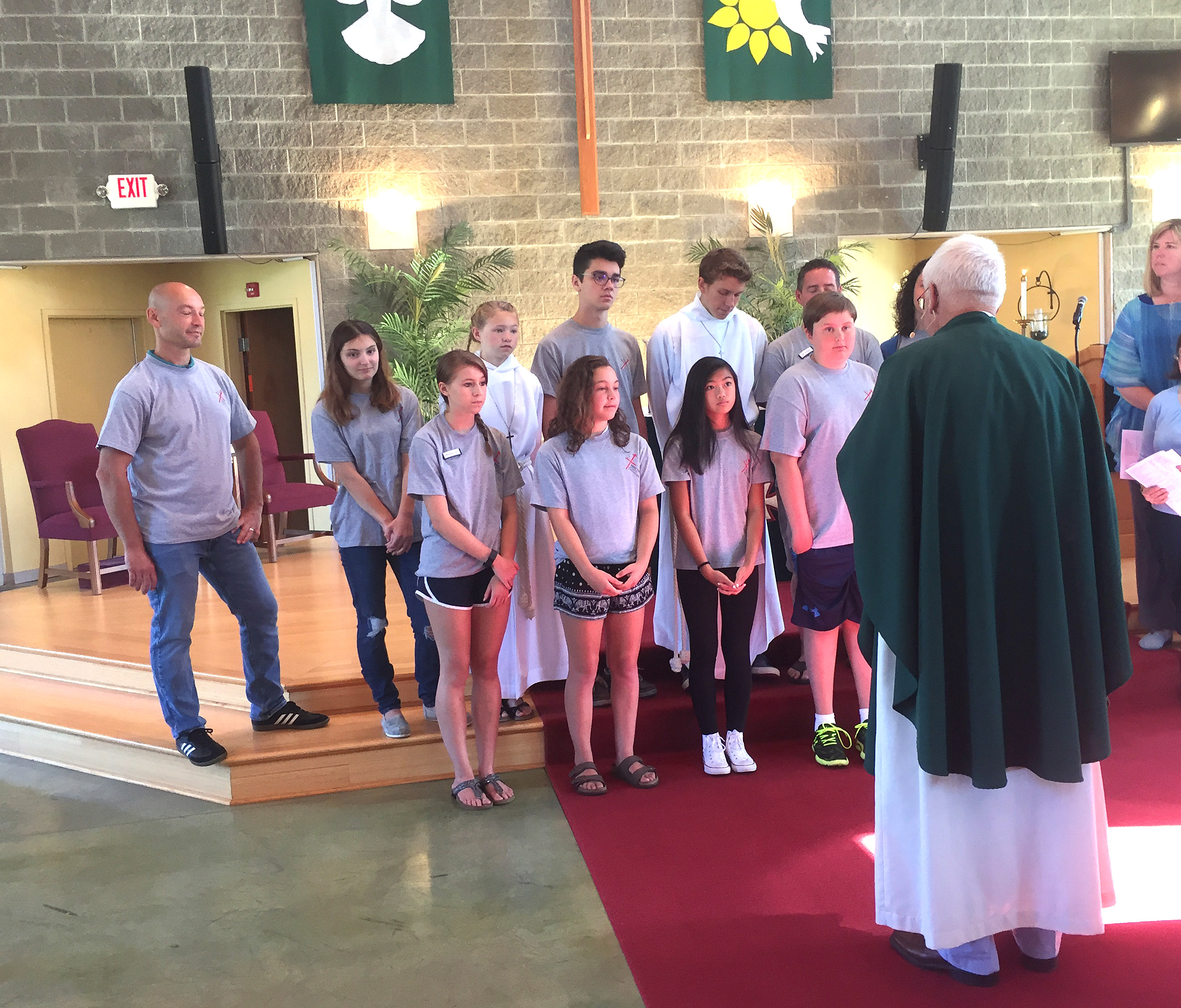 On Sunday, July 9th, Father John Conners commissioned the ten youth and four adults that will travel to Johnson City, TN on this year's Mission in the Mountains trip. This mission trip is part of the larger Holy Family Youth Exchange program created with help from Youth Ministry Grant Initiative funds from the Center for Congregations.
We encourage you to join the Mission in the Mountains journey by following
HFECyouthgroup
on
Facebook
,
Instagram
, and
Twitter
. More information about the Youth Exchange program as well as photos and video from the 2016 trip are available by clicking
HERE
. Please contact Youth Director Marty Blake with questions about Holy Family's youth group program. mblake@hfec.org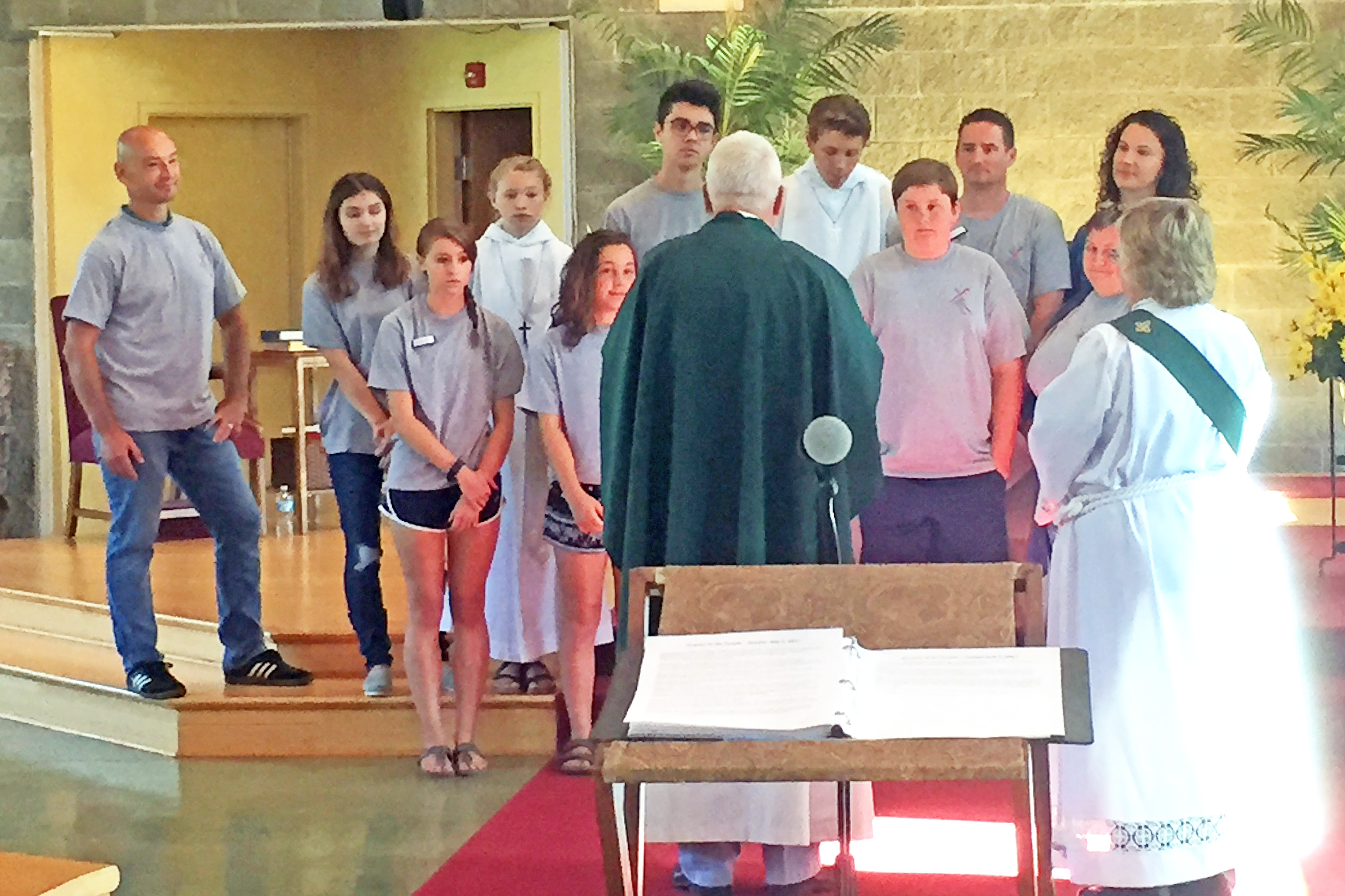 "Come to me, all you that are weary and are carrying heavy burdens, and I will give you rest.
Take my yoke upon you, and learn from me; for I am gentle and humble in heart, and you will find rest for your souls.
For my yoke is easy, and my burden is light."
Matthew 11:28-30
---
During our 10 AM service on July 9th, four new members joined the Hannah Chapter of the Order of the Daughters of the King at Holy Family Episcopal Church through a service of admission. They were joined by other Daughters from our chapter. The Order of the Daughters of the King® is an order for women who are communicants of the Episcopal Church, churches in communion with it, or churches in the historic episcopate but not in communion with it. Our membership currently includes women in the Anglican, Episcopal, Lutheran (ELCA) and Roman Catholic churches.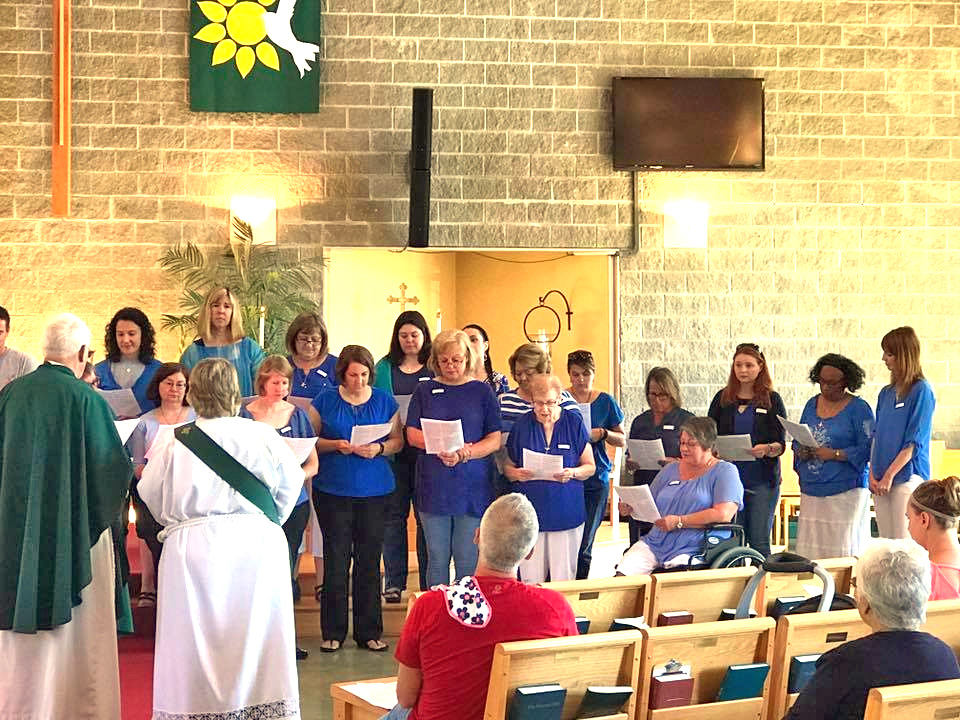 Father John Conners and Deacon Cathy Scott led the service which included the entire congregation. The Mission of the Order is the extension of Christ's Kingdom through Prayer, Service, and Evangelism.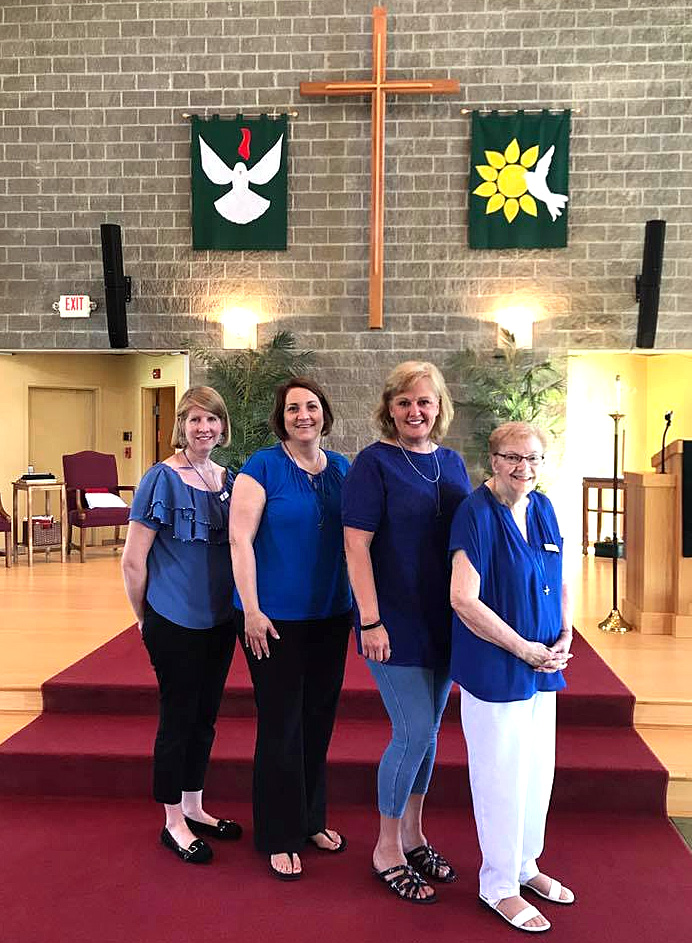 New members (from left to right): Susie Beard, Jennifer McGuire, Teresa Conroy-Roth, and Dee FInkbeiner
Following the service, a special hospitality was held in honor our newest Daughters. More information about the Daughters of the King can be found by clicking
HERE
or contacting the church office. admin@hfec.org
For His Sake…I am but one, but I am one.
I cannot do everything, but I can do something.
What I can do, I ought to do.
What I ought to do, by the grace of God I will do.
Lord, what will you have me do?
---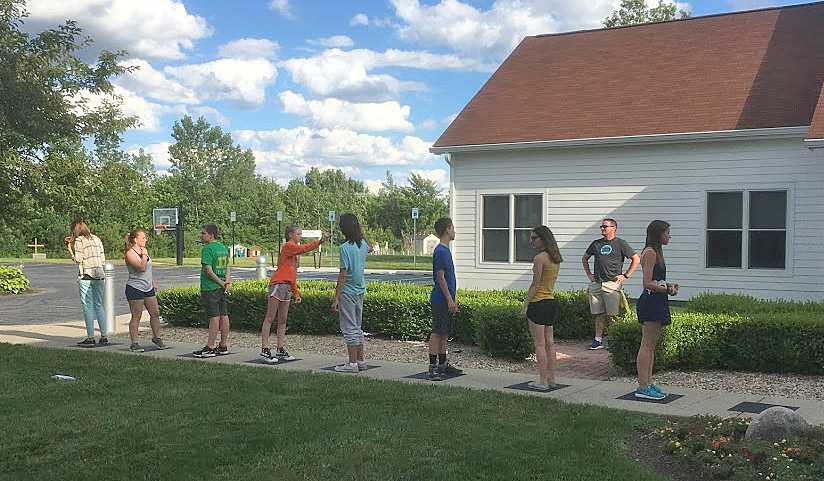 Six members of HFEC youth group and two invited guests gathered for a pizza dinner and leadership development activities Sunday night. The leadership activities were part of Mobile Team Challenge low ropes course. Mobile Team Challenge was purchased for HFEC youth group to use for leadership development with the grant funds provided by Youth Mission Grant Initiative (YMGI). The equipment will be used by the youth group for meetings, lock-ins, and mission trips, including the upcoming trip to Johnson City, Tennessee in July. The eight youth participated in four different activities facilitated by youth leaders Marty
Blake
and Jolene Johnston. The core focus of these activities is to develop our youth through mind, body, and spirit. For more information about Holy Family's youth group activities, please contact Youth Director Marty Blake. mblake@hfec.org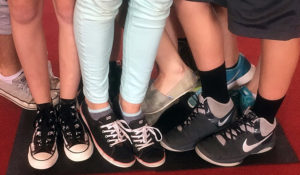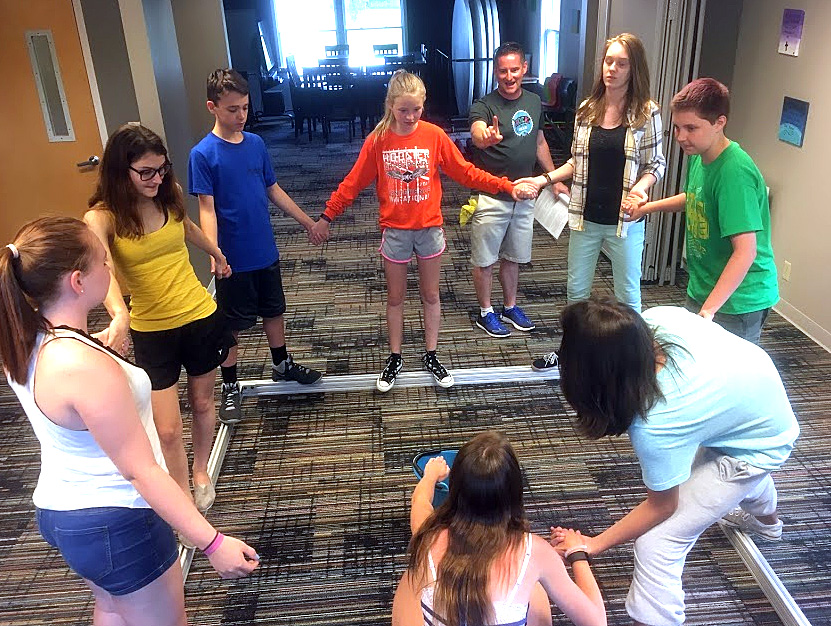 ---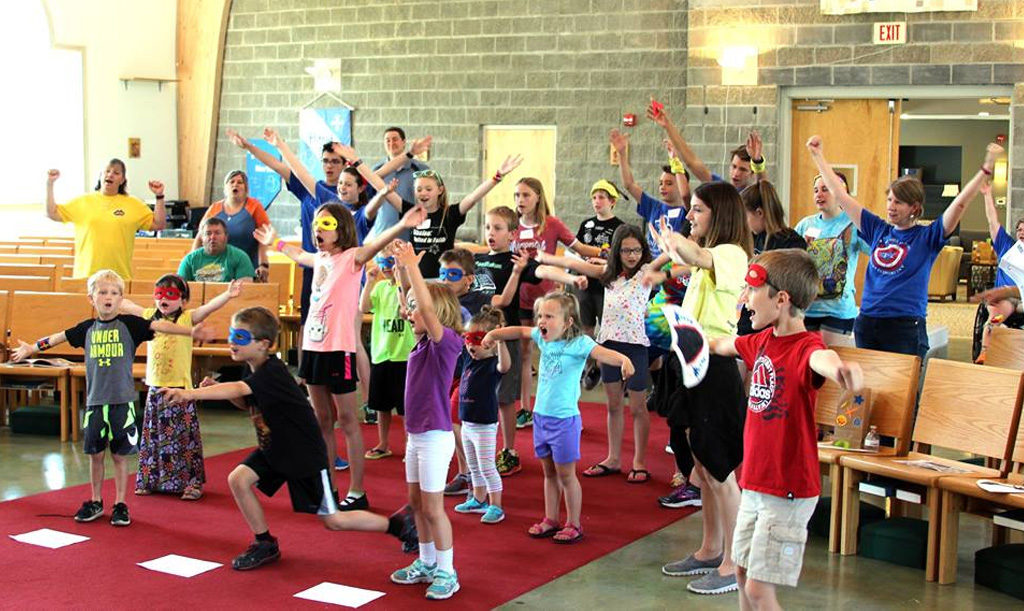 In early June, Holy Family welcomed children to this year's Vacation Bible School program. Children discovered their strength in God through our "Hero Central" theme. Each day included a bible story, crafts, outdoor games, music, science activities, and a snack. We are grateful for the hard work and dedication of VBS leader Kristine Canter as well as our adults and youth leaders. More photos of our Hero Central VBS are available by clicking
HERE
. Please contact Children's Ministry Director Jolene Johnston at jjohnston@hfec.org for more information about Children's Ministry at Holy Family.
---