Mobile users, please
CLICK HERE
to view the entire post with more photos.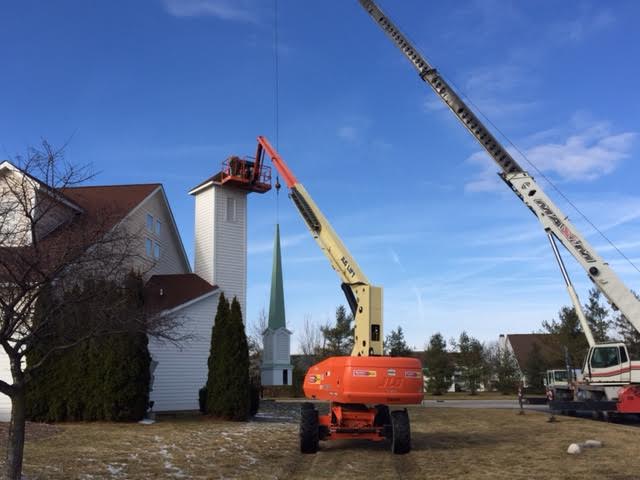 In late 2014 we became aware that the steeple on the Holy Family sanctuary was leaning and therefore caused a safety concern. Father Mike asked Bryan Luce, Senior Warden at the time, to organize a group to restore the steeple to a safer condition. Bryan completed necessary insurance paperwork and secured funding and vestry approval for the project. With the aid of congregation member and civil engineer, Stephen Hendrickson, it was removed on May 12, 2015.
During the next nine months, Stephen led efforts to straighten, repair, and structurally-reinforce the bell tower so the steeple would no longer sway. He also aided with getting a proper place to store the steeple during the repairs. Aspen Group, our construction partner during the City of God expansion project, provided critical assistance to replace the bell tower roof and drill mounts into the wall foundations for cables to help secure the steeple once it was restored to its original location. Stephen worked with a structural engineer to create a new design for the bell tower to secure the steeple in place and installed cross-braces between the wall framing. He also coordinated the removal and reinstallation of the steeple with help from Mark Keys, City of God project liaison. Dan Chillemi, Holy Family Junior Warden, assisted in a variety of ways during this project.
On February 26, 2016, the steeple was returned to its proper place atop the bell tower. Several financial gifts were donated to the steeple repair and contributed greatly. A donation from ProCLAD, Inc. helped ease the financial burden of equipment expenses. This steeple repair was a true team effort from our holy family. Thanks to all who contributed to the success of this project.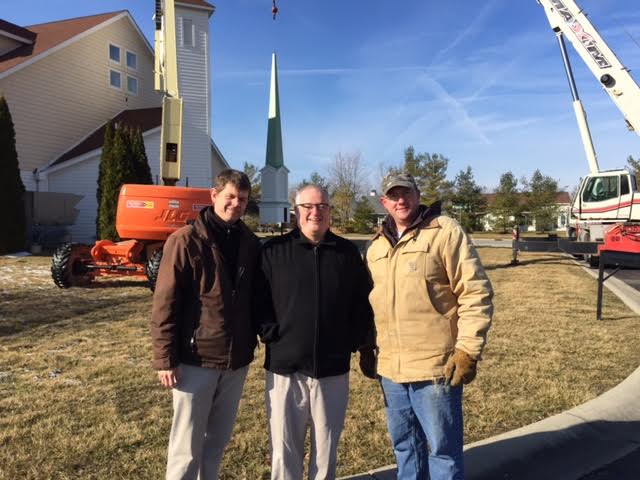 Left to right: Bryan Luce, Father Mike Galvin, Stephen Hendrickson