I honestly thought that when we had to suspend in person worship in response to COVID-19, we would be back in the church Sunday mornings by Labor Day. Of course we are not, because caseloads in Hamilton County are still higher than the diocesan guidelines permit. For a few weeks in it looked like we might be getting healthy enough, but then up they went again. Holy Family has not just been waiting out the crisis, but instead has been actively preparing, so now we have a plan ready to enact when the COVID numbers drop to or below diocesan allowed levels.
Covid-19 cases and infection rate trends in Hamilton County need to meet standards demonstrating that they "have been contained and are not increasing." The Bishop's Reopening Guidelines list three measures — among other possible data measures — that can be used to make this determination.
a. The number of cases in the county has decreased for 14 days or has held steady with a mere handful of cases (five or fewer). (Hamilton County currently does not meet this standard.)
b. The infection rate is less than 1.0. (Hamilton County currently does not meet this standard.)
c. The positive test rate is less than 10%, preferably closer to 3% or less. (The positive test rate for Hamilton County is less than 10% but more than the preferable rate of 3%.).
You can find links to the most current data from the state and the city of Fishers on the parish's COVID-19 webpage. But even looking in the face of challenging COVID-19 numbers for our neighborhood, Holy Family is not sitting still. We are beginning to offer in person worship in small groups, which anyone can sign up to attend using the link on the parish website. Some of our established small groups are meeting in person, and new ones are forming to meet in person. Opportunities for spiritual formation for all ages are firing up as usual this time of year, and with more programing for adults than in past falls. Many of these are meeting online, as is our main Sunday worship.
Holy Family continues to be a vibrant parish, learning how to do important ministries in new ways, as well as creating new ministries to fit these novel times. If there is anything you would like to see Holy Family try that would enhance your walk with God, please do not hesitate to contact me. There is always room for more of God's work, and all are welcome to suggest, participate, and lead ministries at Holy Family.
Yours in Christ,
Fr. Bruce
The Regathering Team consists of Father Bruce Gray, Deacon Cathy Scott, Dr. Doug Tannas, Dr. Katie Swec, Ruth Everett, Bob Murray, Lorri Batesky, Jolene Johnston, Bethany Paden, and Ben Paden. Questions about the team or the reopening process may be directed to Father Bruce. bgray@hfec.org

Holy Family Episcopal Church is a young and growing congregation located just west of the Fishers town center.
Members of the congregation reside in Fishers, Noblesville, Carmel, Pendleton, Indianapolis, and the Geist area.
Mission

: Holy Family seeks to bear witness to the Light of Christ by serving as the heart and hands of Jesus, nourishing people and transforming lives.
Vision

: To be the Good News of Jesus Christ in the community.
Holy Family is part of the Episcopal Diocese of Indianapolis and the worldwide Anglican Communion.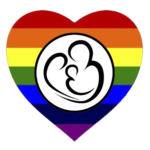 Holy Family is an open and affirming community. More information can be found
HERE.
Holy Family Episcopal Church, Fishers, Indiana, seeks to bear witness to the Light of Christ by serving as the heart and hands of Jesus, nourishing all people and transforming lives. Holy Family is an LGBTQ-friendly church that respects the dignity of every human being. No matter where people are on their journey of faith, and whether they are single, married, divorced, widowed, or partnered, Holy Family's welcome knows no boundaries of age, race, ethnicity, culture, sex, gender identity, sexual orientation, economic condition, physical, or mental ability. Holy Family believes that God delights in the diversity of creation and so does the Holy Family village!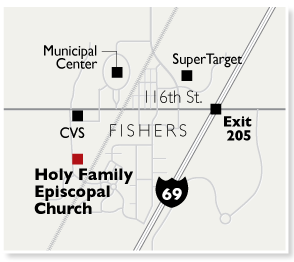 11445 Fishers Pointe Blvd. Fishers, IN
46038
(317) 842-4133
www.holyfamilyfishers.org