At Holy Family, young people are honored and respected as full participants, often lovingly referred to as the #holyvillage. Children and youth are fully-integrated into worship services, ministries, and outreach work. Youth often lead their parents into the mission field. They understand discipleship as a matter of the heart – listening to God's call and responding whole-heartedly to care for and listen to the marginalized, the hungry, and the poor. An older youth member serves on the vestry (church board) to represent the needs and concerns of young people. Holy Family purposefully-engages in many intergenerational activities that offer support and energy to all who participate.
Cultivating a safe environment is essential for youth and adult formation and spiritual practice. At Holy Family, we follow the guidelines set forth by the Episcopal Church in the United States of America and the Episcopal Diocese of Indianapolis.
Sunday School
Children in PreK through 12th grade participate in Sunday school classes on Sundays at 9 AM during the school year. Lessons are prepared by the Children's Ministry Director and Youth Ministry Director and are taught by caring mentors from the congregation. Occasionally throughout the year, families participate in intergenerational activities such as service projects.
Children and youth programs break for the summer to allow teachers a chance to renew themselves spiritually and spend time with their families.

Nursery
Babies and toddlers through age three are welcome in our Nursery during our 10 AM worship service. Young children are encouraged to play, share, and sing in our peaceful, loving environment. Please advise the caregivers if your child has any allergies or requires special medical assistance. A sign-in sheet is provided in the event that your assistance is required during these times.
Nursery care is provided during the 10 AM service to infants and children through age three throughout the entire year.
Godly Play
Children in preschool, Kindergarten, and first grade participate in the Godly Play class. Many themes will have a Godly Play lesson and a Centers lesson.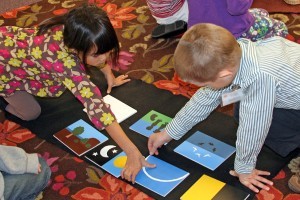 Godly Play is a Montessori-style approach to teaching Bible stories. Children receive instruction using wooden and felt figures that represent key people and events in the stories. They are encouraged to ask "wondering questions" about the stories to deepen their understanding of the material. They also participate in individual and group art projects that reflect the themes of the units. Centers lessons will have the same theme as the Godly Play stories. They may include (but are not limited to) activities such as storybooks, books on CD, blocks, music, cooking, puppets, puzzles, crafts, and coloring sheets. Children may choose one activity or several during the Centers lesson.
Children in these grades are also welcome to attend childcare time which is offered during the first thirty minutes of our 10 AM worship service during the school year.
Believers (Grades 2-4)
This grade level uses the
Living the Good News, Sharefaith, and Building Faith Brick by Brick
programs. Based on readings designated by the Revised Common Lectionary and other core bible stories, students respond by participating in activities such as creating scenes and structures using Legos. This class also focuses on the order of the seasons in the liturgical year and builds familiarity with full participation in all aspects of the worship service including learning frequently-used prayers and reading music in hymnals.
Disciples (Grades 5-6)
This grade level uses the Living the Good News and Sharefaith programs. Lessons follow the readings used in the worship service and have activities designed for older students. They will supplement their lessons with activities from the Building Faith Brick by Brick Lego curriculum. Additionally, students are provided with the opportunity to be formed in the Anglican tradition, learning the basics of Episcopalian teachings that prepare Christians for Confirmation when they are eligible. Creating a safe environment for tweens to grow in friendship is an important part of this program. The world is pushing harder on kids than ever before, and this program aims to help prepare them to make good choices.
Youth Group (Grades 7-12)
Students participate in Sunday morning classes and monthly evening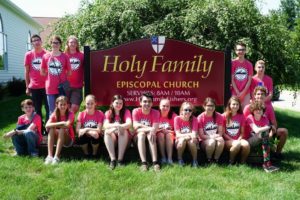 meetings.
The curriculum fo
c
uses on weaving Anglican traditions into daily life and recognizing and responding to God's gifts to the world. A focus on social justice discussions includes active and engaging listening exercises. The youth group will spend time working on teambuilding and leadership development activities through the utilization of Mobile Te
am Challenge equipment. This equipment is utilized by many organizations including all branches of the US mil
itar
y.
Applications for youth include better communication skills, confidence building, organizational commitment, and spiritual development. The activities feed into the youth group mission of building mind, body, and spirit while serving as the heart and hands of Jesus.
All youth group students are encouraged to participate in both internal and external ministries. Most youth spend time serving as acolytes and running the sound system/audio visual ministries during worship, and attending a week long mission trip every summer. Additionally, Holy Family's youth participate in multiple fundraising activities such as a talent show and annual pancake and spaghetti dinners with silent auction components. Youth also participate in social outings, camping and canoeing trips, lock-ins, and Diocesan-wide weekend retreats in the spring and fall every year.
Service Projects and O

utreach
Students in all grade levels participate in a variety of outreach projects which vary from year to year. Some recent activities include our Tools 4 School supply drive, Angel Tree, and the annual Youth Group Mission Trip.
Social Events
Students in all grade levels participate in age-appropriate social activities throughout the year including movie nights, bowling parties, field trips, and lock-ins.
Children's Ministry Director: Jolene Johnston jjohnston@hfec.org
Youth Ministry Director: Marty Blake mblake@hfec.org