Meet Holy Family
Holy Family Episcopal Church is a young and growing congregation located just west of the Fishers town center. Members of the congregation reside in Fishers, Noblesville, Carmel, Indianapolis, and the Geist area.
Due to the COVID-19 pandemic, one service will be held online at 9 AM. CLICK HERE
attend a Sunday morning worship service

enroll children in Sunday school or youth programs

enhance your own spiritual life by joining an adult program or by participating in a ministry

participate in a fellowship activity

serve in an outreach partnership
Become part of Holy Family!
Holy Family Leaders

The Reverend Bruce W. Gray, Rector
I was called to be Rector of Holy Family in March of 2018. This call came after I served nine years on the staff of the Bishop of Indianapolis, and before that serving in various congregations in California and Indiana. Despite the gray in my beard, I am full of energy and fueled by a daily curiosity about what God will be up to today, and how I might be called to participate in sharing God's constant and infinite love for all humans and the rest of creation. My less lofty ambitions, but sometimes just as challenging, are to be a good husband, father, grandfather, and friend. My hobbies range from multiple sports to model railroading, with a willingness to undertake new adventures in various forms. Two important concepts for me are that first, God is always doing the heavy lifting in any given situation, and second, faithful sermons come from reading the Bible in one hand and the New York Times in the other.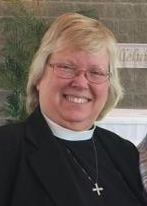 The Reverend Cathy Scott, Deacon
I have been privileged to serve Holy Family as a deacon since 2012. I am co-chair of the diocesan Anti-Racism Committee and a diocesan trainer for Lay Eucharistic Visitors. I have a JD from IU School of Law, a Masters from IU School of Social Work and a Masters in Theological Studies from St Meinrad School of Theology. I have a Certificate in Anglican Studies from the Church Divinity School of the Pacific. I also completed a three year Certificate in Spiritual Direction from St Meinrad School of Theology. I have been involved in social justice work since 1971 and I love the call of the deacon to "comfort the afflicted and afflict the comfortable." I enjoy helping folks discern their call to outreach ministry and supporting them on their journey of discipleship. My wonderful partner, Joan, and I have been together for 20 years. I have a handsome son, Ryan, and an awesome grandson, Brayden. Being a cool grandma is one of my greatest joys!
The Vestry
Senior Warden: Ruth Everett Junior Warden;

Bob Murray,
Treasurer Betty Bogeman; Recording Secretary TBD; Hannah Tannas (youth), Hillary Blake, Marcus Dial, Teresa Conroy-Roth, Cathy French, Stephen Beard, and Carol Bruns.
Please click HERE for information about our staff and wardens.