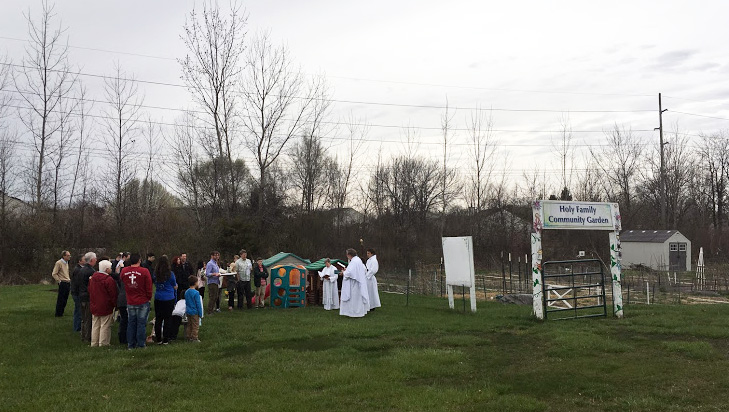 On Earth Day, April 22nd, Holy Family celebrated Earth Day in a variety of ways. During 9 AM Adult Forum, The Reverend Cathy Gray offered reflections on the holiday with those in attendance. Following the 10 AM service, everyone walked outdoors with Father Bruce to bless the Holy Family Community Garden plots as well as seeds and plants brought by worshipers. Finally, adults and children scattered native Indiana wildflower seeds along the treeline to enhance the outdoor chapel. It will be interesting to watch and see what Mother Nature provides! For more information about special events or the Community Garden at Holy Family, please contact Jolene Johnston. jjohnston@hfec.org
CLICK HERE for more photos of Earth Day at Holy Family.
---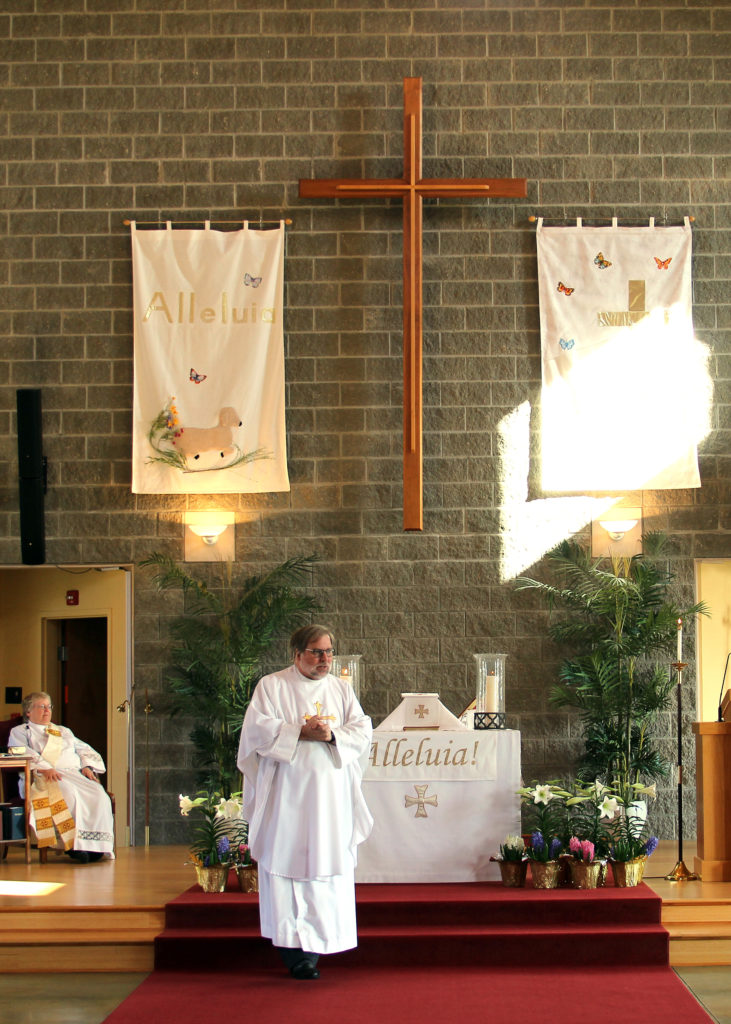 Alleluia, the Lord risen! The Lord is risen indeed. Alleluia!
Al Holy Family we celebrated the Resurrection of our Lord Jesus Christ with the joyous ringing of bells, festive songs, and celebration.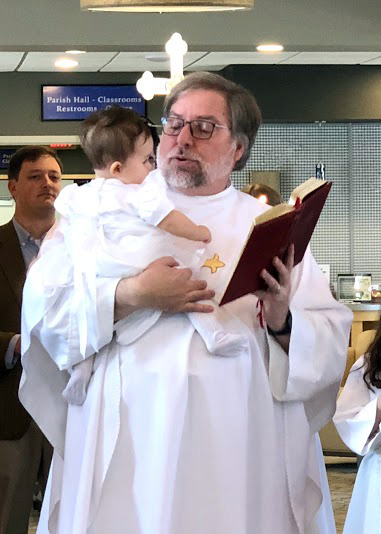 We also welcomed Emerald Blair to our Holy Family through the sacrament of Baptism. View more photos from our Easter Day celebration by clicking HERE. For more information about Holy Family, please contact our church office. admin@hfec.org.
---
O God, through your Son you have bestowed upon your people the brightness of your light: Sanctify this new fire, and grant that in this Paschal feast we may so burn with heavenly desires, that with pure minds we may attain to the festival of everlasting light; through Jesus Christ our Lord. Amen.
---
We glory in your cross, O Lord,
and praise and glorify
your holy resurrection;
for by virtue of your cross
joy has come to the whole world.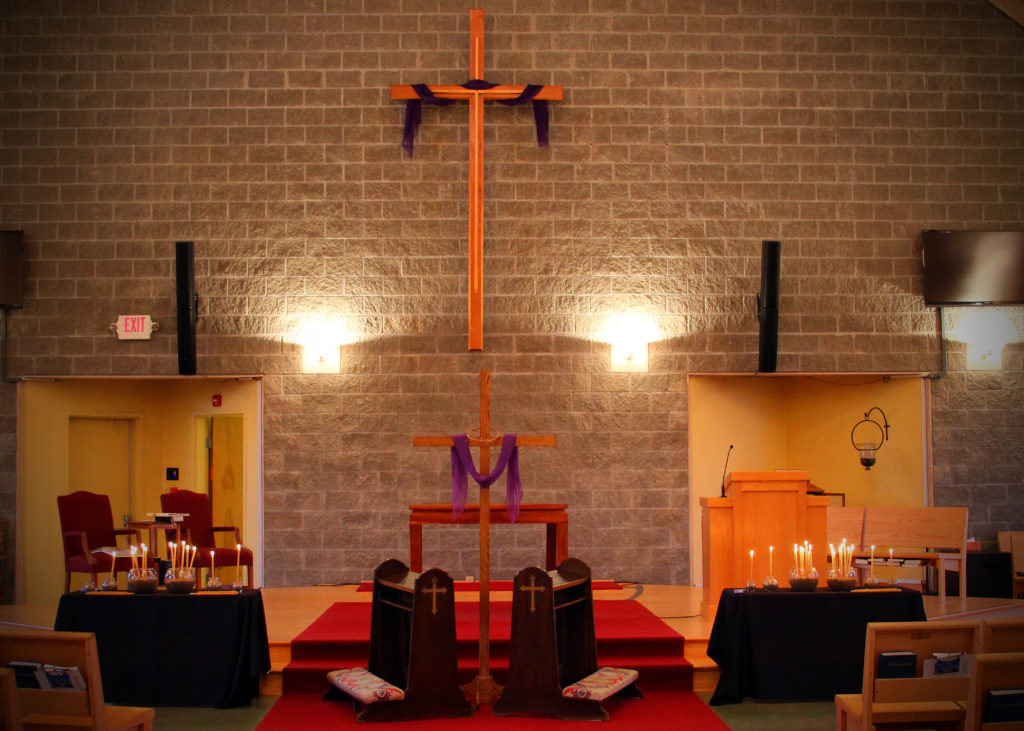 ---
The Lord Jesus, after he had supped with his disciples and had washed their feet, said to them, "Do you know what I,
your Lord and Master, have done to you? I have given you an example, that you should do as I have done."
Following the Eucharist, the altar was stripped, washed, and reset on the side as the Altar of Repose. Our next Holy Week service is on Good Friday, March 30th, at 7 PM.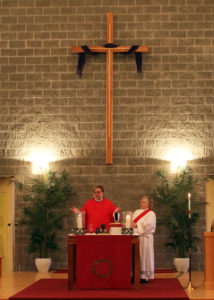 ---
Holy Week 2018 at Holy Family began with one worship service at 9 AM with our new rector, The Reverend Bruce W. Gray. Congregation members gathered in the parish hall and processed to the sanctuary in traditional fashion to represent Jesus' triumphant entry into Jerusalem, Due to heavy snow the day before, we held the procession indoors. In place of the Gospel, The Passion was read aloud by members of the congregation.
Following the worship service, Holy Family congregation members hosted a welcome reception for Father Bruce and his wife, Cathy. We are excited to begin this new journey in ministry together. Special thanks are extended to all those who helped make our Palm Sunday worship service and welcome reception so lovely.
We invite you to join us for our worship services during Holy Week and Easter-
you may view the schedule by clicking HERE.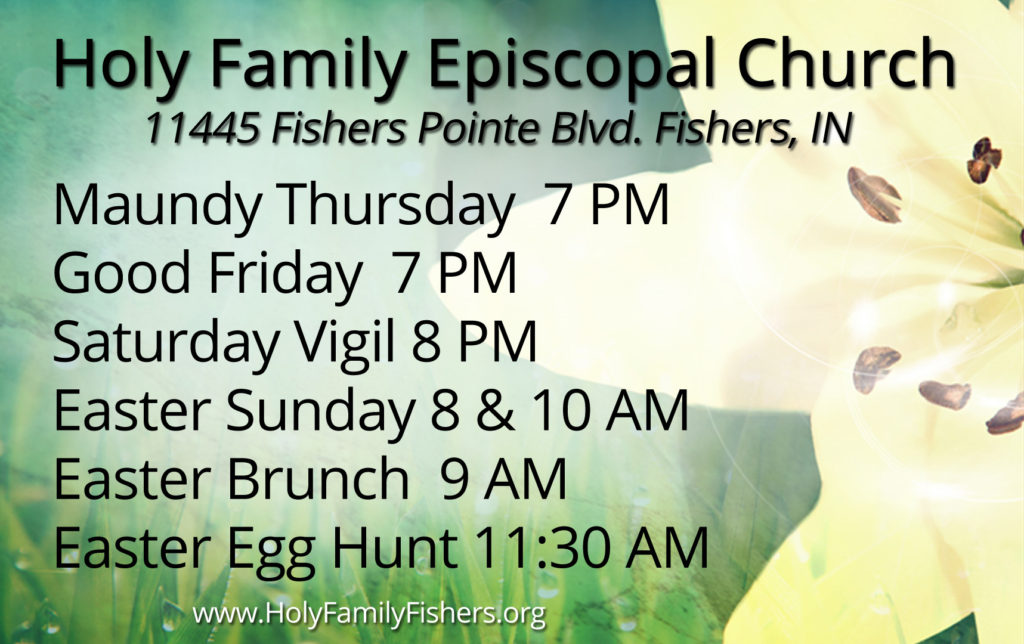 ---